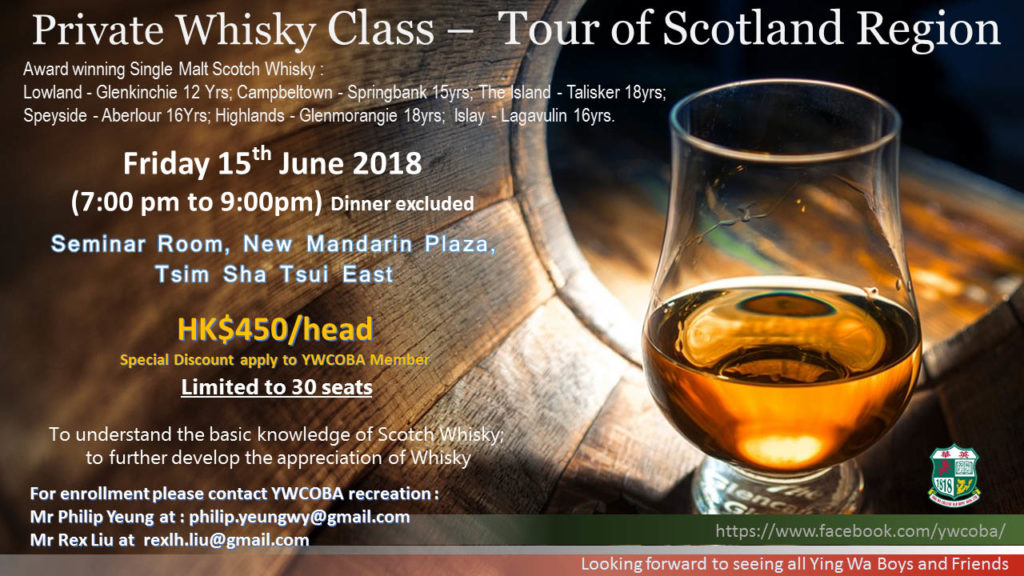 Dear Alumni,
To those interest to know more about Whisky, we are organizing a private Scotch Whisky Appreciation Class for Ying Wa boys and friends.
Date:

15 June 2018

(

7:00pm-9:00pm

)
Venue: Seminar Room, New Mandarin Plaza, Tsim Sha Tsui East, exact venue to be advised to the participant
Fee: $450 per head (special discount for YWCOBA individual Member)
Total available Seat: 30 (on first come first serve based)
P.S. Dinner not included unfortunately
Programme Highlight :
To understand the basic knowledge of Scotch Whisky including their Ingredients, types, production process and how we should appreciate Scotch Whisky;
To learn how to distinguish whisky flavors and aromas;
To appreciation of six whisky from different region of Scotland :
Award winning Single Malt Scotch Whisky :
Lowland – Glenkinchie 12 Yrs;
Campbeltown – Springbank 15yrs;
Speyside – Aberlour 16Yrs;
Highlands – Glenmorangie 18yrs;
The Island – Talisker 18yrs;
Islay – Lagavulin 16yrs
Certified Speaker: Ms Jacqueline Wong, Wine Consultants of Wine Peers Company Limited
To secure your seat please sent your contact details below to Mr Rex Liu(90) at tel: 60163887or e-mail rexlh.liu@gmail.com for enrolment by noon 25 May 2018.
Full Name :
Full Chinese Name :
YWCOBA membership Number :
Year of leaving Ying Wa College :
Contact Tel :
Contact Email :
Best regards,

Philip Yeung 楊偉炫, 1994 (philip.yeungwy@gmail.com)

Rex Liu 廖力行, 1990 (rexlh.liu@gmail.com)


YWCOBA Recreation
Also, follow us on Facebook: