Dear Members,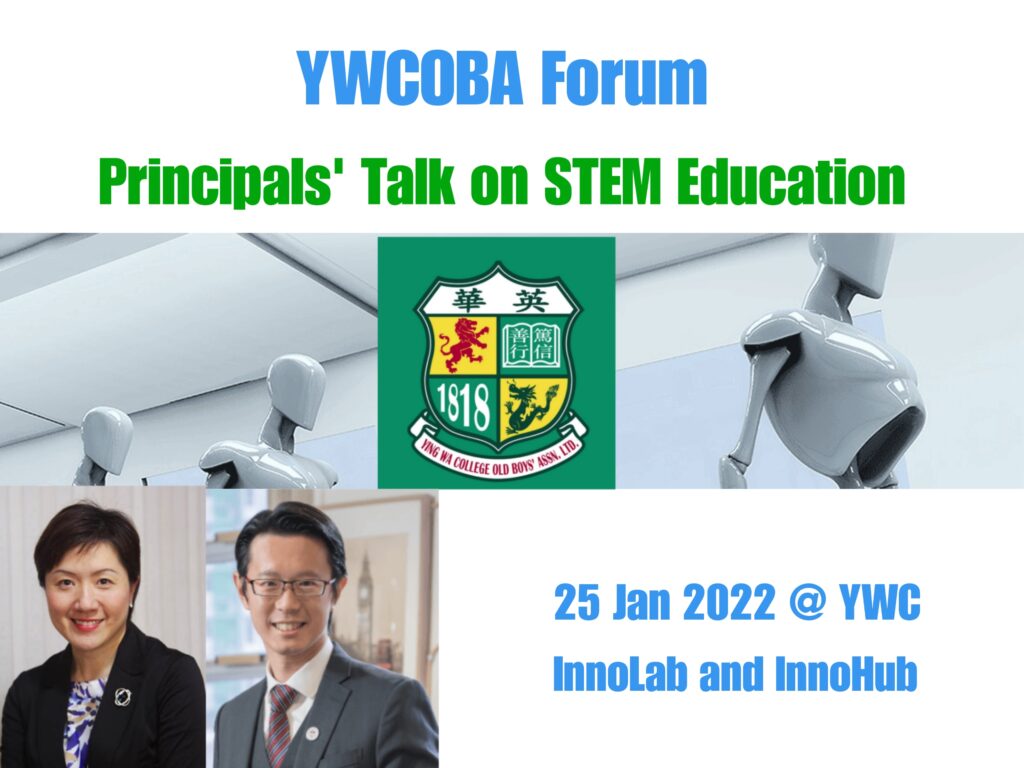 STEM education nowadays is fundamental and vital at school in order to equip students for the future. We are honored to have both of the principals of Ying Wa College (Mr. Dion Chen) and Ying Wa Primary School (Ms. Sylvia Chan) sharing their views and experience on STEM education at YWCOBA Forum to kickstart the new year in 2022.

In addition, market practitioners Jack Wu (1991) of DTSL Group, Harry Chai (1995) of Techbob Academy and Jonathan Ng (1989) of Hong Kong Examination and Assessment Authority are invited to exchange insights from interactions with students, parents, teachers and school administrators in the STEM ecosystem in Hong Kong.

If you are interested to learn more about the STEM education facilities at Mother School, you are most welcome to come earlier for a tour of YWC InnoLab and InnoHub guided by Albert Wong (1984 / F5) who is currently the IT Manager of YWC.

《 YWCOBA Forum 》

Date: 25 January 2022 (Tuesday)
Time: 6:30 p.m to 10:00 p.m
Place: 1) ICT Tour at YWC InnoLab & InnoHub
2) Panel discussion at YWC Music Practice Room
3) Dinner at GrandFulam, V Walk


Fee: HKD320 for YWCOBA members
HKD380 for non YWCOBA members
Register ASAP with the Google Form below (
https://bit.ly/33HfrHZ
) to reserve your seat if you want to join this special event. Seats are limited and will be allocated on a first-come-first-serve basis.
Meanwhile, Ying Wa Education Foundation (YWEF) provides financial support to the two schools in assuring quality education. If you would like to learn more about YWEF and show your gratitude and financial support to Ying Wa, please visit the web page (
https://ywcoba.com/ying-wa-education-foundation/
) and contact us at
info@ywcoba.com
for more details.
Should you have any questions regarding the above event, please feel free to contact YWCOBA ICT Interest Group convener – Carus LU (1990) via WhatsApp (
+852 9191 2134
).
Thanks a lot for your support to Ying Wa!! We look forward to seeing you at the upcoming OBA activities!!
Yours sincerely,
Gareth NG
Chairman
Ying Wa College Old Boys' Association Limited