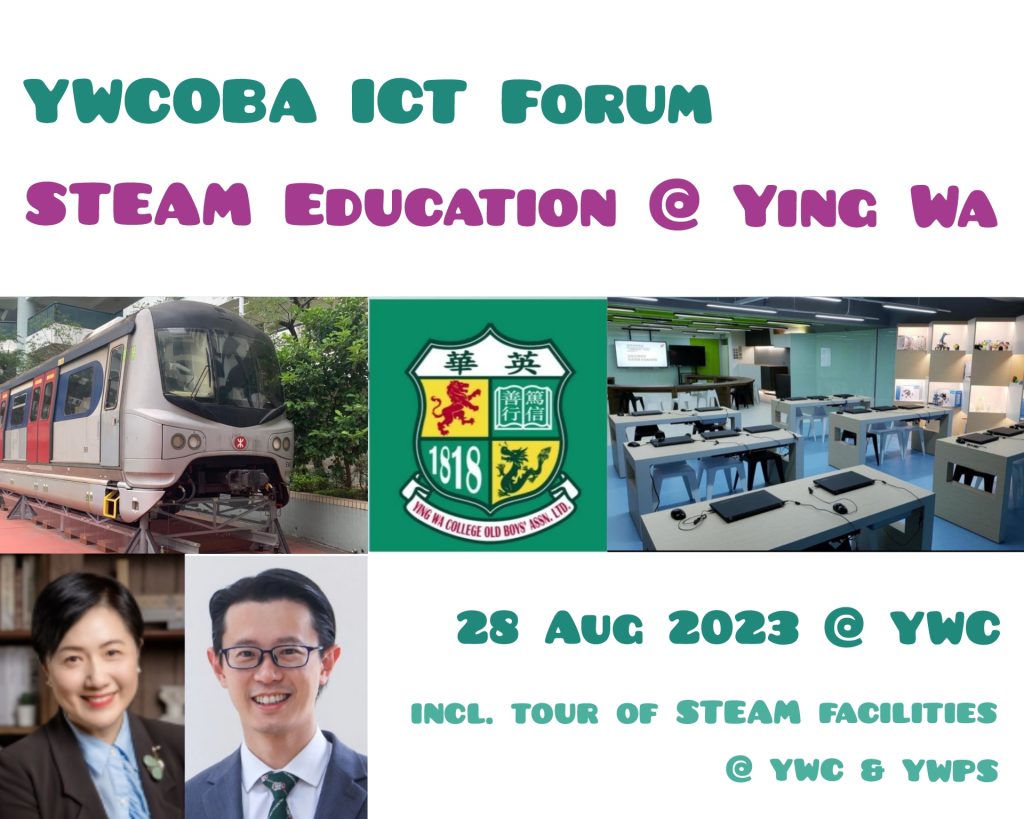 STEAM education nowadays is fundamental and vital at school in order to equip students for the tech-and-innovation driven future. We are honored to have the principals of Ying Wa College (Mr. Dion CHEN) and Ying Wa Primary School (Dr. CHAN May Kuen Sylvia, MH) respectively to share their views and experience on STEAM education at the YWCOBA ICT Forum. It definitely will be a fruitful event for you to kickstart the new school year this summer and nurture your sons for the future. Join us and don't miss the chance to meet the principals in person!!
Apart from market practitioners Mr. Jack WU (1991) Business Director of DTSL Group and Mr. Jonathan NG (1989) Assessment Development Manager of Hong Kong Examinations and Assessment Authority, relevant teaching staff Mr. Albert WONG (1984 YWC graduate and IT Manager of YWC) and Mr. KWAN Yuet Hung (Vice Principal of YWPS) are invited to exchange insights from interactions with students, parents, teachers and school administrators in the STEAM ecosystem.
If you are interested to explore the STEAM education facilities at both Ying Wa College (YWC) and Ying Wa Primary School (YWPS), you are most welcome to come earlier for a tour of the retired MTR trains, YWPS STEAM Lab, YWC InnoLab, InnoHub and Flight Sim, etc. at the school campus (see attached). Starting at around 6:00 p.m, the STEAM facilities tour will be guided by Mr. Albert WONG as well as Mr. KWAN Yuet Hung.
《 YWCOBA ICT Forum 》
Topic: STEAM Education @ Ying Wa
Date: 28 August 2023 (Monday)
Time: 6:00 p.m to 8:00 p.m
Place: InnoLab, 6/F, Ying Wa College, 1 Ying Wa Street, Kowloon.
Fee: Free of charge for YWCOBA members
(Welcome to join YWCOBA membership now at https://ywcoba.com/membership/)
Participants are encouraged to join the after event dine-out gathering at a nearby Chinese restaurant to network with the guest speakers and alumni though it's optional and at the participants' own expenses. Details will be provided in due course.
Register ASAP with the Google Form here ( http://bit.ly/3pSMQef ) to reserve your seat if you want to participate in this special event. Seats are limited and priority will be allocated to YWCOBA members on a first-come-first-serve basis.
Should you have any questions regarding the above event, please feel free to contact YWCOBA ICT Interest Group convener – Mr. Carus LU (1990) via email info@ywcoba.com.
Thanks a lot for your support to Ying Wa!! We look forward to seeing you at the upcoming OBA activities!!
Yours sincerely,
Gareth NG
Chairman
Ying Wa College Old Boys' Association