Dear alumni,
We are pleased to inform you that the responses for "Dine-and-share with KC Kwan" has been overwhelming. Any new enrolment will unfortunately be treated as waiting list.
We will send out the event details including location and map of the venue to all registered participants next week.
Looking forward to meeting fellow alumni within the industry on 28 June.
Best regards,
Bernard Li 李政立, 1996
Sunny Chiu 趙緯樂, 1998
Edward Li 李俊蔚, 1999
YWCOBA Financial Chapter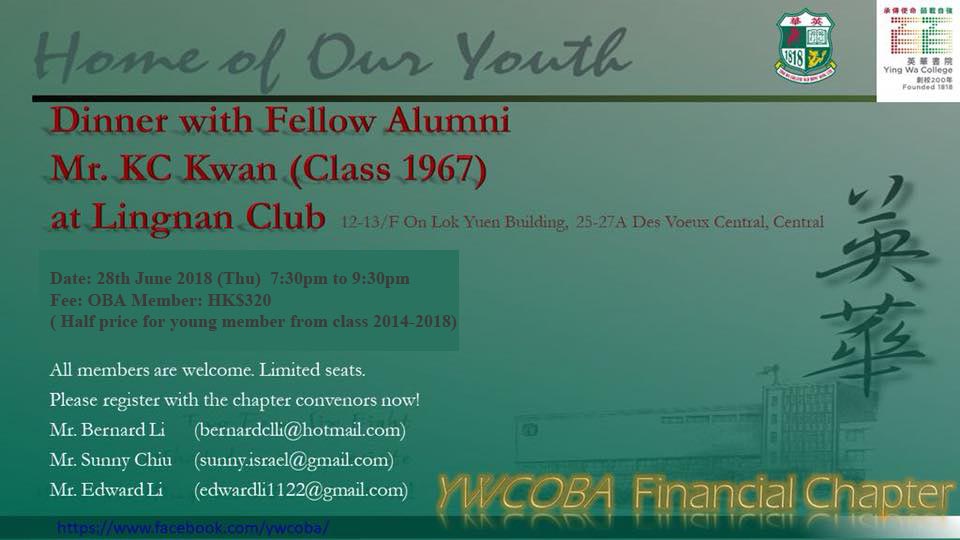 Dear Alumni,
Please kindly note that YWCOBA Financial Chapter will host a dinner sharing session with Fellow Alumni Mr. KC Kwan (Class 1967) for OBA members and affiliate members.
Date:
28th June 2018
(Thu)
7:30pm to 9:30pm
Fee: OBA Member: HK$320 ( Half price for young member from class 2014-2018)
Through regular gatherings and networking occasions, we aim to enhance the bonding among fellow old boys within the financial industry and to support the development of our alma mater.
All members are welcome. Seats are limited and reserved on first come first served basis. To secure your seat please send your contact details as follow to one of our chapter convenors below for enrolment by noon 14 June 2018.
Full Name :
Full Chinese Name :
YWCOBA membership Number :
Year of leaving Ying Wa College :
Contact Tel :
Contact Email :
Best regards,
YWCOBA Financial Chapter