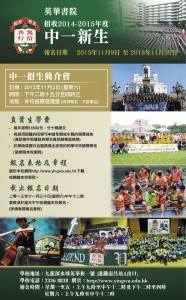 The briefing session about Ying Wa College 2014-2015 DSS S1 Admission will be held at 2:15pm on 2 November, 2013 ( Saturday ) at, Noble Hall, Ying Wa College. The briefing session is open to public, and particularly for those who intend to apply for their son for 2014-2015 S1 of Ying Wa College. No enrollment for the briefing session is necessary, and seats in the Noble Hall will be on first-come-first-served basis.
Briefing Session:
2 Nov 2013, 14:15-16:00 at Noble Hall, Ying Wa College, No. 1 Ying Wa Street, Shamshuipo
2014-2015 DSS S1 Application Period:
9 Nov 2013 to 30 Nov 2013
Attached with detail application for reference.